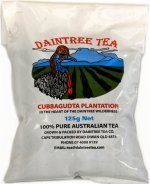 Rainforest Gift Australia
Daintree Tea 125g Loose Leaf
Regular price
$5.95
$0.00
Unit price
per
Tax included.
Shipping
calculated at checkout.
Daintree Tea 125g Loose Leaf 
The Daintree Tea Company is located on the Cubbagudta Plantation, situated in the heart of the Daintree Wilderness and Rainforest area in Far North Queensland. 
The Plantation was established in 1978, by the Nicholas family, who still own and operate the business. As more people from all over the world are discovering the pesticide free Daintree Tea, this black unblended pure Australian Tea has become more and more popular with the general public due to its excellence in taste and aroma.
Many tea connoisseurs state that the flavour is second to none and the aroma is just delightful. Lots of Australian tea blenders choose to mix Daintree Tea in their own blend to boost their flavour and aroma.
Drink Tea as Mother Nature intended.
Daintree tea, full of taste, no chemical fertilizer, no tannin acid, no or very low caffeine
From the heart of the Daintree Rainforest Wilderness Single Tea Products
---